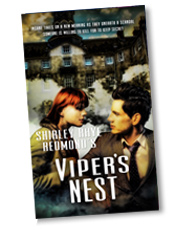 Viper's Nest

Caring for her 9-year-old daughter Pippi is widow Wren Bergschneider's main priority. But she becomes frightened and mystified when she receives an anonymous note hinting that her
husband's traffic death the year before might not have been an accident after all. When an unidentified shooter makes Wren and her boss, history professor Allan Partner, his targets after
they emerge from the basement of a 175-year-old insane asylum slated for demolition, their
lives take an unexpected—and dangerous—turn.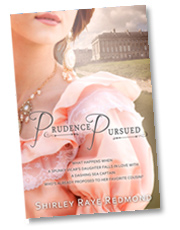 Prudence Pursued

Jane Austen Approved!
At the advanced age of twenty-seven, Prudence Pentyre is on the shelf. Content to occupy her time by attending meetings of Mr. Wilberforce's Abolition Society, Prudence is resolved to see that her younger cousin Margaret, shy and plain, does not share her own unmarried fate.
Despite her best efforts, all of Prudence's matchmaking attempts fail. Margaret proves reluctant to accept Sir James Brownell's marriage proposal, and fears being "bovinised" if she undergoes the controversial cowpox vaccination he recommends. And the dashing baronet—with his sunburned skin, eye patch, and unfashionable attire—seems more concerned about the plight of headhunters in Borneo than Margaret's stubborn refusal of his offer.
Prudence, on the other hand, finds herself unexpectedly smitten with the man. Can she trust that God's plan for her life is richer and more rewarding than the one she had planned for herself?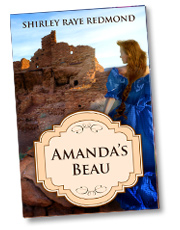 Amanda's Beau
The year is 1905. It is autumn in the village of Aztec in New Mexico territory. Amanda Dale is burdened with the responsibility of caring for her widowed sister and Ella's two children—one a premature infant. Schoolteacher Gil Gladney is handsome, intelligent, and God-fearing. He is drawn to Amanda, but feels he cannot propose marriage until he is able to purchase the ranch he has been saving for. When Gil and his pupils discover the relics of an ancient culture among the ruins outside the village, Gil contacts an old college friend. The possibility of an archeological excavation excites the community of cash-strapped farmers, eager to earn extra money working on the site. 
Gil is delighted when Nate Phillips comes to Aztec to take up the challenge. When a rabid skunk reels through the excavation site, threatening the lives of Amanda and her nephew Rex, Gil realizes that life is short and the possibility of true happiness can be fleeting. In the end, Amanda learns to trust God to provide the happily-ever-after ending she's been praying for. 
Now available from Amazon, Barnes & Noble and Astraea Press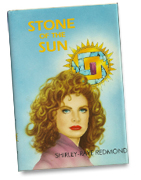 Stone of the Sun
Finding out that she witnessed her own father's murder is a shock, but when April Cortes receives a letter from the grandmother she hasn't seen since she was five, she knows she must make peace with her past. The mysterious summons to her grandmother's sprawling Arizona ranch is irresistible. Much to April's surprise and delight, Collie Cortes happily relates the family's ancestral history, including the legend of the Stone of the Sun, an ancient and valuable heirloom that was stolen at the time of April's father's death.
Collie also confides that someone—maybe someone on the ranch—is trying to kill her. April hates to believe it's anyone she's growing close to, but she has already lost too much at this ranch and has no intention of letting anything end her new relationship with her grandmother. She will not drop her guard—not even for the handsome Del Spurgeon. If she does, she might not be around to ensure her grandmother's safety…
Available on Amazon.com as a paperback and Kindle title.
Now Available on Kindle!
Rosemary's Glove is Shirley Raye's most recent historical romance novel. It won the 2009 New Mexico Book Award in the romance category and was a Finalist in the Phoenix Desert Ros e Golden Quill Contest 2009 .

Miss Rosemary Addison has set her heart on becoming the wife of the dashing Thomas Alden, Lord Beverly--a man with a dubious reputation. But when Rosemary's widowed mother confides that she plans to marry Mr. Nevin at the end of the Season and wants to see her daughter promptly and properly wed, Rosemary realizes she must force the reluctant earl's hand.

She convinces her childhood friend, Broderick Loren--a handsome amateur botanist--to agree to a 'temporary engagement.' When the announcement appears in the Gazette, no one is more surprised than the conceited Lord Beverly. Rosemary soon finds herself consumed by conflicting emotions. Will she cry off her engagement to Broderick and throw herself into Lord Beverley's arms, or will she realize she loves Broderick with all her heart?

The title was favorably reviewed:
"Redmond…keeps the reader engaged…"
Once Upon a Romance
http://www.onceuponaromance.net/Rosemary'sGlove.htm

"…a sweet and romantic novel…"
Coffee Time Romance
http://www.coffeetimeromance.com/BookReviews/rosemarysglove.html


FAIRIES is the winning Young Readers title in the 2012 New Mexico Book Awards!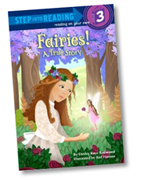 FAIRIES: A True Story was released by Random House on March 27, 2012 with a 50,000 copy first printing!
In 1917, two English schoolgirls shocked the world when they claimed to have photographed fairies in the woods. Arthur Conan Doyle believed them!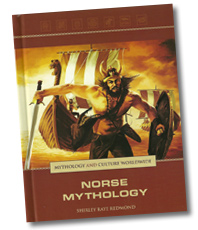 Norse Mythology, released in June 2012, is part of Gale Cengage's new Mythology and Culture Worldwide series. The book is aimed at high school students and contains everything from maps to genealogies of the Norse gods, goddesses, and monsters. Readers will learn how belief in Thor, Odin, and Frey influenced the everyday life of the Vikings—from the way they fought battles to their extraordinary seamanship. Even Christopher Columbus spent time in Iceland learning about the northern sea lanes to the New World!
The heroic gods of Asgard have also had a profound influence on pop culture-- in comics, movies, video and online gaming, and even literature—including the novels of Christian writers C.S. Lewis and J.R.R. Tolkien. The Old Norse sagas and myths also enthralled the Nazis. The section on "A Nazi Obsession" examines Heinrich Himmler's fascination with ancient Norse deities and its influence upon the war efforts during World War II.