Prudence Pursued - GRAND PRIZE WINNER!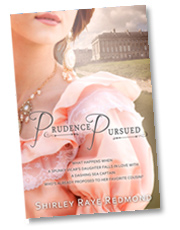 PRUDENCE PURSUED won the Grand Prize in the Inspirational Category in the 2014 Judge a Book By Its Cover Contest, sponsored by the Houston Bay Area RWA! It also won First Place in the Readers' Choice competition.
https://jabbic.hbarwa.com/Display.php?y=2014&cat=7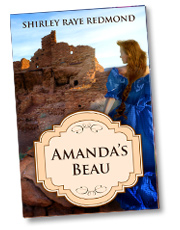 Amanda's Beau
Village of Aztec,
New Mexico Territory, 1905
The baby was nestled snugly inside the large roasting pan. Wrapped in a bit of blue flannel blanket, she reminded Amanda Dale of an over-sized tamale. The pan had been set upon the open door of the hot oven so the premature infant could absorb the life-saving heat. She is so little, Amanda thought with a clutch of fear. She bent over the pan to peer into her niece's tiny face—a face not much larger than a silver dollar
"Do you think she'll die?" 10-year-old Rex asked. Bonita, the large red dog, stood beside him, her long tongue hanging out of her open mouth.
Amanda noted the anxiety in her nephew's voice. She didn't answer at first. Born almost two months early, the baby had been quite small and barely strong enough to suckle. Tufts of dark hair now sprang from the top of her little head like scraggly sprouts. Her tiny limbs appeared so fragile Amanda was reluctant to carry the infant without first placing her on a pillow. Ella hadn't even bothered to name the child yet. When Rex started calling the baby Minnie, Amanda did too. After all, the tiny girl was no bigger than a minute, Gil Gladney had declared the first time he'd seen her.
With a heavy sigh, Amanda shoved thoughts of the handsome schoolteacher, out of her mind and filled the medicine dropper with warm milk. She couldn't afford to indulge in romantic daydreams. Not this busy September morning. Not ever.
"Aunt Mandy, is she going to die?" Rex repeated. 
"Not if I can help it," Amanda replied.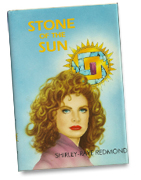 "She'd witnessed a murder—or so she'd been told—and nothing would ever be the same again."
Stone of the Sun
by Shirley Raye Redmond
Now available on Kindle and Paperback
Pigeon Hero! Gets a Facelift!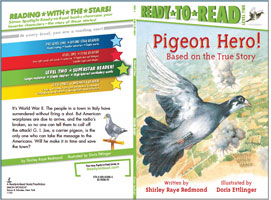 Simon & Schuster has reissued Shirley Raye's award-winning title with a new cover! It relates the true story of G.I. Joe, a WWII American Air Corps messenger pigeon. The title won an Oppenheim Toy Portfolio Gold Book Award in 2004.
To celebrate the book's re-release, Shirley Raye will send free Pigeon Hero! bookmarks to the first 100 readers who
contact her at srr@shirleyrayeredmond.com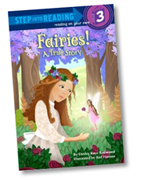 FAIRIES, A TRUE STORY is the winning Young Readers title in the 2012 New Mexico Book Awards!
FAIRIES, A TRUE STORY gets a 4 apple rating on Book Wisdom by Diane blog!