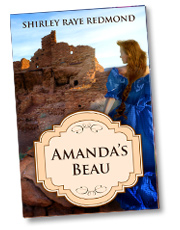 In Amanda's Beau, my heroine takes sugar cookies to the local spelling bee. If you're looking for a good sugar cook recipe, I'd love to share the one my mother used when I was a child, and it's the one I use as well, particularly for Christmas and Valentine's Day. The recipe, scribbled down by my mother decades ago on a sheet of paper, is one of my treasured possessions. Although both my mom and I use cookie cutters, women in Amanda's day probably would have used the mouth of an open jar or drinking glass to cut the dough into a simple round shape.

Rolled Sugar Cookies

You will need:
¾ cup of sugar
½ cup melted shortening (can substitute canola or sunflower oil)
2 eggs, beaten
1 tsp vanilla
2 cups all purpose flour
1 tsp cream of tartar
½ tsp baking soda
½ tsp salt
Blend sugar and melted shortening. Add beaten eggs and vanilla. Sift flour mixture and add to sugar mixture. Stir well. Chill several hours until easy to handle. Turn out onto lightly- floured board or counter top. Roll dough with rolling pin and cut out circles or other shapes with cookie cutters.
Bake on greased baking sheets at 375 degrees for 10 or 12 minutes. Remove and sprinkle with colored sugar or cinnamon sugar. You can also make a thin frosting using confectioner's sugar and a splash of milk and dunk the tops of the cookies (when cooled) into this mixture, which should be runny.
Makes approximately a dozen and half or two dozen cookies, depending on the size of the shapes.